~ tangible encouragement for YOU around the holiday season's awkward moments ~
Ah, holiday shopping. Isn't it the..........worst? 🤣 Literally every part is stressful - the who, what, when, where, why and how. Let's take a closer look.
who. Okay, let's check your shopping list.
Parents, check.
Kids (if applicable), of course.
Siblings, check.
Grandparents, okay.
Aunts and Uncles? No idea. One you're really close with. The others you never see. But they're probably going to send you a Christmas card.
Significant other, absolutely. Unless it's a 6 month or less relationship. Right? Wrong? Yikes.
Neighbors? Maybe. Or is that too weird...?
Your cousins' kids. Um...They'd be fun to shop for! But you weren't planning on shopping for your actual cousins. Is that bad? Wait, how old are these kids again?
Your boss. Possibly?
Colleagues. Maybe...
AHHHHH.
what. Hahahaha this is when the real fun begins. Where are your kids' Christmas lists? How long are they??? Oh boy. And, shopping for adults?? What do adults even want? Clearly not more stuff to sit in the house, right? You can't give them another candle, no way. Hey Google...
when. Oh, the magic question. When will you have time to purchase all these gifts? And get them delivered on time? Which leads to...where. Especially this year, it looks like online shopping might be the safest bet. But wait, how early do you need to get things ordered, to wrap and deliver in time? Or do you spend extra for gift wrap from the shop? why? why is this so intense? how...are you going to get it all done?
Now that we're all stressed (haha, our bad)...here's the deal. Perhaps WE are the ones stressing ourselves out. Perhaps we need to remember that gifts, as a tradition, come way after what really matters. And this year? Even more-so.
Maybe the best present you can give someone this year is just to be present. Hehe, get it? Present?
Giggles aside, we're being serious. It's going to take the extra mile this year, too. Logging into another family Zoom. You're exhausted, but everyone will love to see you. Calling your grandma because you won't be able to celebrate in person. But you know how much that will make her smile. Just being with your immediate family. Curling up around the tree, sipping hot chocolate. That's the real gift to your kids, your partner, and definitely your doggo. 🧡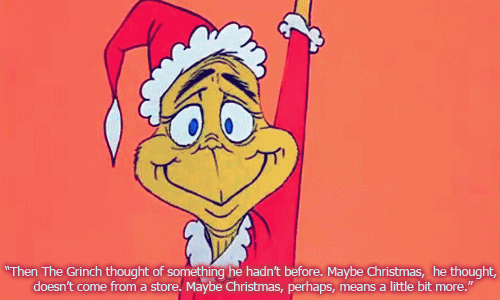 Try not to stress out too much about gifts this year. Be as present as possible in the moments that matter.